ClickFunnels has made it easier than ever to build marketing funnels that generate leads and sales on autopilot.

This drag-and-drop page builder was created for those of us who want to spend our time impacting the world and enjoying the ultimate freedom lifestyle… not getting knee-deep in complex tech and time-consuming web design.

So… how can you take a simple thank you page template from the ClickFunnels Marketplace… and transform it into a profit maximizer?

As you're about to find out, it's super easy, yet hardly anyone is really taking advantage of this huge opportunity to immediately convert more leads into customers on the thank you pages of their optin funnels.

That's why I want to show you 3 simple ways to reap maximum profit immediately after someone opts in for your lead magnet.

When you implement any single one of these 3 strategies, you'll not only be able to break even on your lead gen ad spend…

...but you'll also shift the relationship with your new leads from only slightly interested email subscribers to serious buyers who are already committed to your brand and more likely to buy from you again in the future.

So, if you like the idea of turning leads into profits just by tweaking your thank you page, then keep reading! (You'll thank me later :)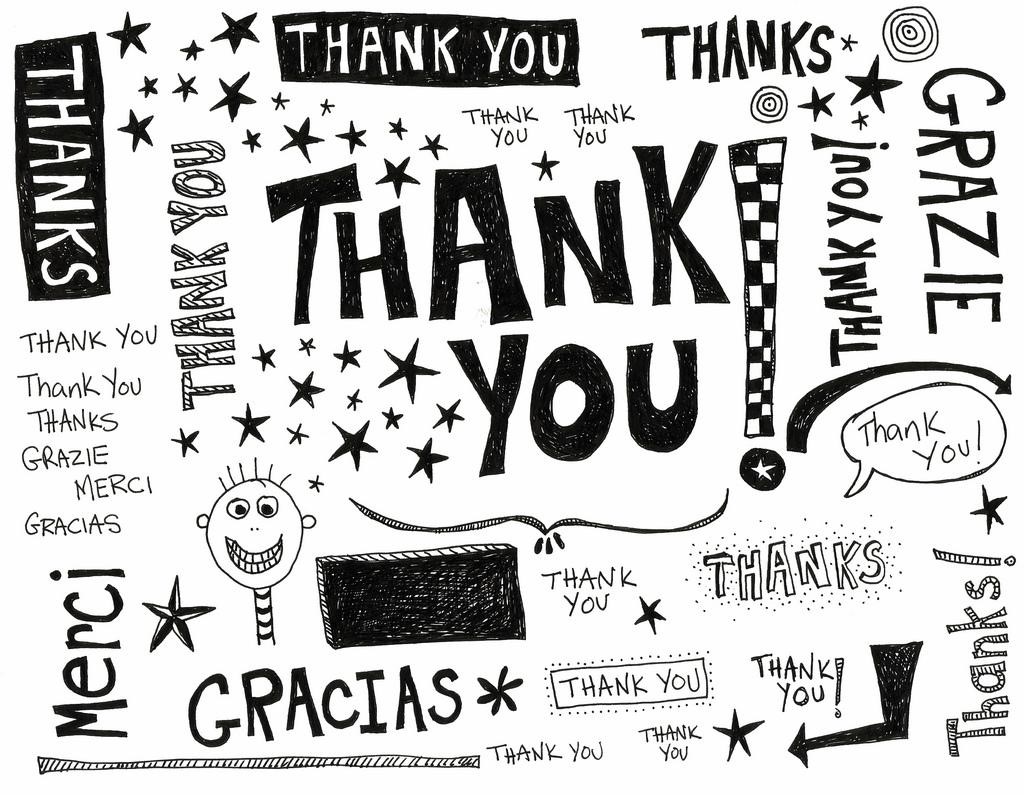 3 Simple Ways to Turn Your Thank You Page into a Profit Maximizer…

#1: Offer a Paid Strategy Session

Who This Is For: Coaches, consultants, and experts, including digital agency owners, whose ideal sales conversation takes place over the phone.
When It Works: You should offer the strategy session on your thank you page if your new lead is searching for clarity around the thing they just opted in for AND if the best/fastest way to get clarity is on the phone with a live person.

For example, if your lead magnet is a 7-point Facebook ads audit, your ideal prospect is struggling with their own Facebook ad campaigns and probably feeling extremely frustrated. It would make sense to go ahead and offer a paid strategy session where you can help them get the personalized, expert insight they need to gain clarity around what's not working once they've already made a micro-commitment by taking your freebie.

The drawback of offering strategy sessions (even if they're paid) is their lack of scalability since you're still using your time talking on the phone with prospects.

If you are looking for something more passive or if you just hate talking on the phone, check out number two...

#2: Offer a Tripwire Info Product

Who This Is For: Anyone with an info product to sell. This could be a mini-class, a segment of a larger online course, an ebook, etc.

When It Works: The "tripwire" info product offer works best when it's the next logical step someone needs to achieve the desired result relevant to the lead magnet they've just requested.

It should also be at a price point that is a total no-brainer so that it would seem silly to pass up this chance to get what they want faster or more easily just by spending a few bucks (think flash sales).

To implement this on your thank you page, you can add text blocks and turn it into a long-form sales page (like my husband and I did for our business in the example below), or you can format your thank you page as a video sales letter.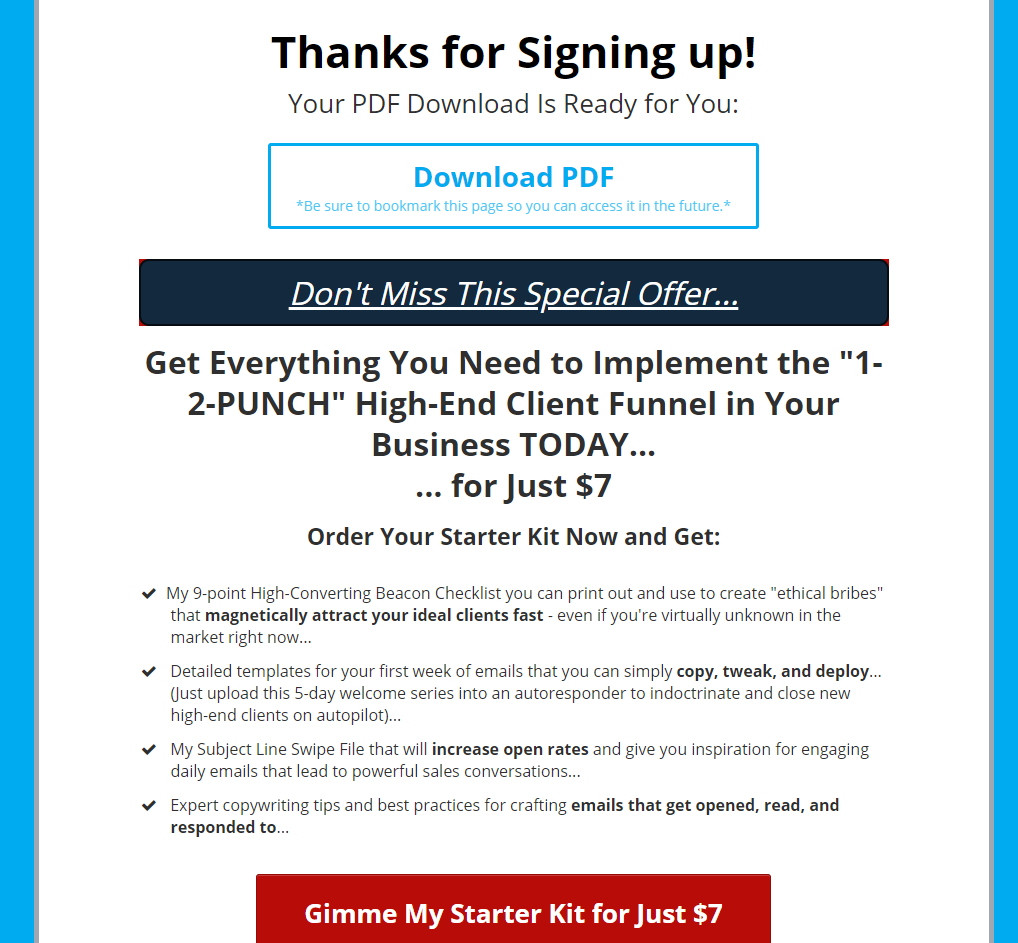 If you opt for the VSL, this is a great way to build know, like, and trust with your new subscriber. All you have to do is insert a video of you explaining the big promise of your offer, how it ties into the freebie they just opted in for, the benefits, and why they need to act NOW to get it.

Add a headline above, such as "Your [Name of the Lead Magnet] Will Arrive in Your Inbox in the Next 5-10 Minutes… in the Meantime, Watch This Important Video…"

Then add a call to action button below the video.

Realistically, your fully optimized thank you page could be up and running in a few short hours.
#3: Offer a $1 Trial

Who This Is For: SaaS companies or anyone with a subscription-based product.

When It Works: Just like with offers #1 and #2, the $1 trial offer works best when you have a subscription model that can continue to serve your prospect - whether by delivering better, faster, or easier results - after they've taken you up on your lead magnet offer.
In other words, it's that next step that allows someone to "test out" your ultimate solution before they shell out the big bucks.

Here's a great example from DigitalMarketer that shows how they combine the tripwire info product offer with the $1 trial on their thank you page:


In this example, the lead magnet is a 5-point paid ad audit. On the thank you page, you can get a subsequent "21-Day Launch Plan" that will give you a fully functional and profitable funnel for just $27… OR you can get that for FREE buy activating your dollar trial.

What they're really selling on the thank you page is the $1 trial for their membership program. The prospect can spend $1 to get complete access to EVERYTHING in the vault to help them grow their business smarter, faster, and more effectively.

This smart offer is a no-brainer for prospects, and it gives the seller an easy, low-risk entry point for their core offer that normally costs $49/month.

Could Your Thank You Page Be the Key to Unlocking New Profits?

Ready to put these tips to the test and optimize your thank you page?

Start with your prospect. You can't do any of this until you know who your ideal client or customer is and what they want.

Then, brainstorm the next logical step in the sequence after someone opts in for your freebie and before they purchase your core, flagship offer.

Not only will this 2-step process enable you to seamlessly convert more leads into buyers, but it will also change the relationship with your prospect, opening up the opportunity for a larger sales conversation.

Remember, this isn't just about earning a few bucks off a thank you page, it's about getting someone to commit to you with their credit card and take the next step in your funnel to becoming a long-term customer and raving fan.

If done correctly and with a genuine desire to SERVE your prospects, you're leaving bread crumbs that will lead them right back to where you want them.

Not to mention… ClickFunnels makes it easy to customize your thank you page so you can test out whichever offer you want.

So, take a deep dive into the mind of your ideal prospect and start architecting your thank you page offer now!
Kate is a certified Digital Marketing Professional who specializes in writing direct response sales copy. She is also the co-founder of Funnel Rehabbers, where she and her husband help big-hearted entrepreneurs generate leads and sales online through marketing funnels that convert. When Kate isn't fixing funnels or hanging out with her family, you can usually find her in the boxing ring.b