What if you had an email list chock full of thousands of high-quality prospects?
What if you could generate double the leads you are right now - at half the cost?
And how about never having to lie awake worrying about where your next paying client or customer is coming from ever again?
Good news is, you don't have to imagine it because it's all 100% possible with the perfect lead magnet in play!
While the idea of the "lead magnet" is nothing new (even Albert Einstein was using his version of it back in 1902 to snag private tutoring clients), the process of actually creating something your ideal audience is desperate for stumps many marketers and business owners.
So, if you're eager to craft a lead magnet that your ideal prospects can't resist, keep reading. In this article, we'll cover the 5 pillars of the perfect lead magnet so you can create your own by the end of today.

What Is a Lead Magnet?

Before we dive into the strategies behind building your lead magnet, it's critical to know what one is and why you need it in your business.
A lead magnet is something of value - educational, useful, and/or entertaining - offered for free in exchange for a prospect's email address.
This could be a checklist, a cheat sheet, a free training video, anything your ideal client or customer would find relevant and valuable. But right now, the format is secondary to the quality of content someone experiences when they opt in for your lead magnet.
Here's why you want to create the perfect one:
You can create your lead magnet ONCE and use it over and over and over again to magnetically attract your ideal clients and customers like clockwork.

Your lead magnet is the gateway to your brand.

It's your first real chance to blow away someone who might end up working with you with the incredible value, knowledge, and expertise you bring to market. When done right, your lead magnet will allow you to attract your IDEAL audience and separate your dream clients from the chaff.
That's because your lead magnet targets a certain type of person based on the content you create. For example, if you're a Facebook ads specialist looking to attract high-end clients who want you to run their campaigns, a checklist on how to set up business manager vs. a checklist on advanced targeting with Audience Insights will attract 2 very different types of people.
By creating the kind of gated content your dream client or customer wants from the very start, you'll be able to attract those types of people into the top of your funnel with ease. From there, you can move them down the funnel into your paid products, programs, and services.

Your lead magnet opens the door to long-term (profitable) relationships.

Your lead magnet also gives you the ability to build an email list of prospective buyers whom you can follow up with for free anytime you want. The relationship you build via email will move people further down your funnel, ultimately turning subscribers into loyal, raving fans who buy whatever you're selling.
(The money's in the list and the fortune is in the follow up and all that jazz).
Plus, the more effective and irresistible your lead magnet is, the more optins you'll get, which means more leads at a lower price. And we could all use a little more money in our pocket, amiright?
Enough about the what and the why. Let's dive into HOW you can create the perfect lead magnet your dream clients and customers will be begging for!

The 5 Pillars of the Perfect Lead Magnet:

Pillar #1: It's Valuable
Would someone gladly pay money for what you're about to give away for free?
Remember, your lead magnet is the first step in getting someone into your funnel.
It's where you get a chance to make a stellar first impression with your brand. This means your lead magnet should have a high perceived value and a high actual value.
This doesn't mean you have to spend hundreds of dollars on flashy graphics and branding (although good design can't hurt). This does mean that you should be totally confident in the quality of content and results your lead magnet delivers.
You're using this tool to build a list of people who could be your dream clients, so don't miss this chance to WOW them with value from the beginning.
Your prospect should finish consuming your lead magnet and think…
"Holy crap! I can't believe she's giving this away for FREE! If the free stuff is this good, I wonder what the paid stuff is like!"
Pillar #2: It's Desirable

Does your lead magnet speak to the relevant needs and desires of your ideal prospect?
People don't buy products, services, features, or even benefits. They buy transformation.
Quick example: People buying weight loss products aren't really buying them to lose an extra 20 pounds. That's just a nice side effect.
What people are really buying is the feeling of confidence they'll have when they hit the beach this summer without feeling the need to hide under baggy t-shirts and cover ups. In other words, they're buying the transformation from the state they're in now (uncomfortable in their own skin) to the state they truly desire (confident, secure, and happy).
By speaking to the desired transformation of your ideal clients and customers, you can create an irresistible lead magnet.
So, how do you tap into your dream clients' deepest desires? Answer these questions:
What has them up at 3am feeling frustrated, worried, or anxious?
What's the most urgent, pressing crisis your ideal client is facing right now that you can help solve right away?
What would you tell your ideal client if they called you up about this situation right now? (Share high-level steps - "what" you would do, but not "how" you would do it.)
What do they complain about the most when with friends or family? (not enough money? Feeling out of shape? Hating their job? Not living their true purpose or passion?)
What does your ideal client want more than anything?
What pain are they trying to avoid?

Use the answers to these questions to outline 3-5 high-level steps your ideal client can take immediately to get one step closer to their desired state of transformation.
These steps will form the meaty content of your lead magnet while delivering a "quick win" that motivates your prospect to take your next offer!
Here's a great example from marketer Julie Stoian, who helps her ideal audience of service-based business owners overcome their frustrations with closing leads and sending proposals with 3 steps, or secrets: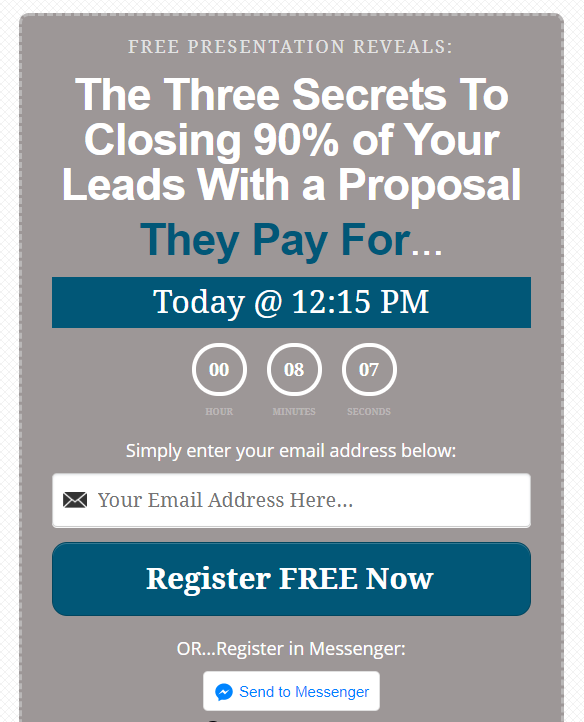 Pillar #3: It's Specific
Are you laser focused on one specific promise for one specific person?
Our brains can only process so much information at once. Your prospects don't want to know everything that's inside your head - they just want to be presented with a single, useful idea, promise, or answer that could make their life/business/health/relationships better right now.
Plus, the more specific you are with your lead magnet, the easier it is to speak directly to your ideal client.
Here's an example from my Facebook newsfeed this morning: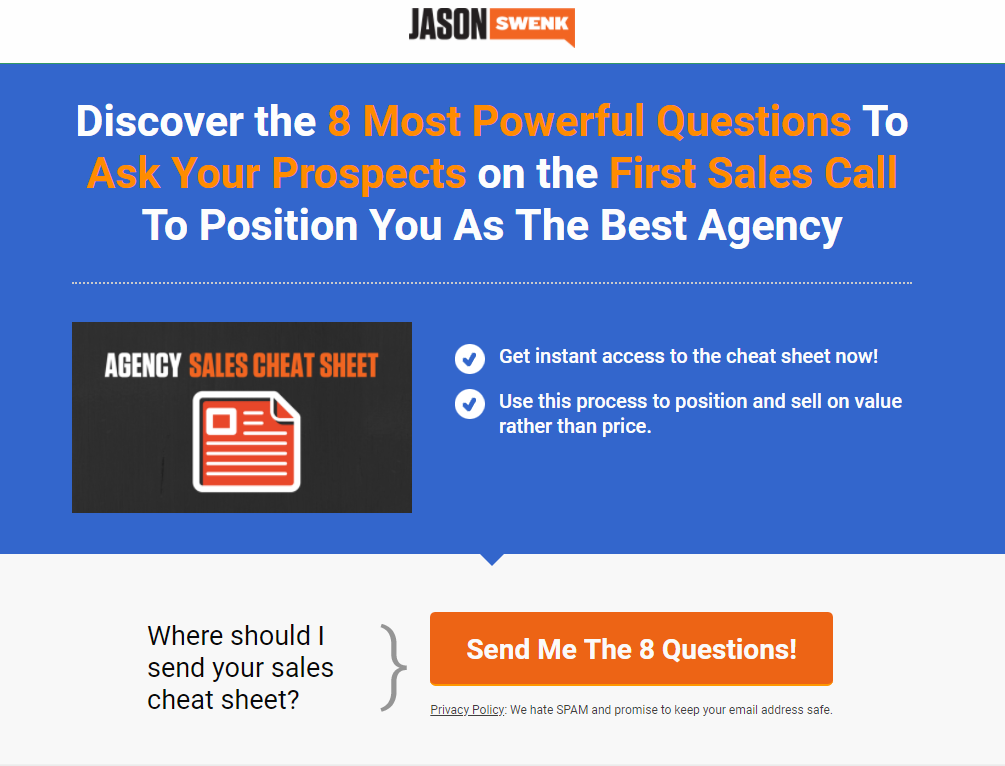 See how simple and specific this lead magnet is?
It's not the ultimate guide to sales calls for everyone who is unfortunate enough to have to do sales calls…
It's for one specific person (an agency owner). It addresses a specific problem/question (what to say on the sales call to create powerful positioning). And it speaks to a desired end result (being positioned as the BEST instead of competing on price).
Remember: You can't solve all of your ideal prospect's problems in one fell swoop. At least not yet.
Instead, give your ideal prospects a tiny taste of what you can do for them by zeroing in on one big idea, one big promise, or one specific question they already have. The perfect lead magnet works like free samples at the food court. Once someone gets a taste of what you can offer, they'll be coming back to you for more and more.

Pillar #4: It's Easy to Consume
Can someone easily digest the content of your lead magnet in 5-10 minutes? Or does it feel like work?
Ideally, a lead magnet can be experienced within 5 minutes. Too much longer and there's a good chance no one will actually read or use what you've created - which means you've wasted your time and your prospects aren't getting any value from you.
Consumability also means your lead magnet should leave the prospect instantly feeling better, simply because they consumed it.
It's easy to leave someone more frustrated and stressed out than before if you overwhelm with a lead magnet that is either too long and difficult to digest or provides too few details. You can avoid this by using more digestible formats like video, one or 2-page pdfs, and quality design.
If you're in a field where it makes sense, one of the best formats to use for easy consumption are templates. By giving someone a "fill-in-the-blank" template they can simply swipe and deploy for fast results, your lead magnet is automatically more attractive because it feels easy - not overwhelming. Take this example from Grace Lever, for instance: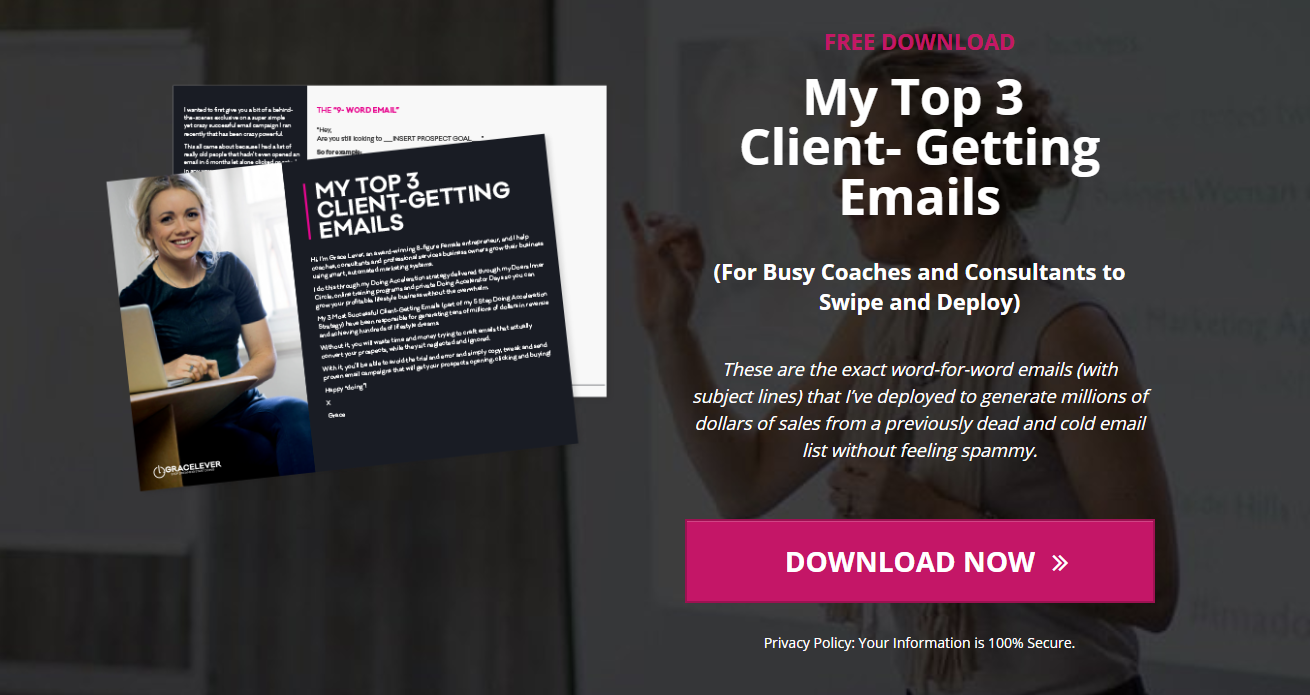 Pillar #5: It's Sequential
Does your lead magnet pre-frame people to work with you?
Don't waste time creating a gorgeous, 10-page pdf full of valuable tips… IF it doesn't seamlessly and subtly lead prospects to take the next step along your value ladder.
You must always keep the customer journey and your value ladder in the back of your mind when creating any offer, especially the very first entry point offer.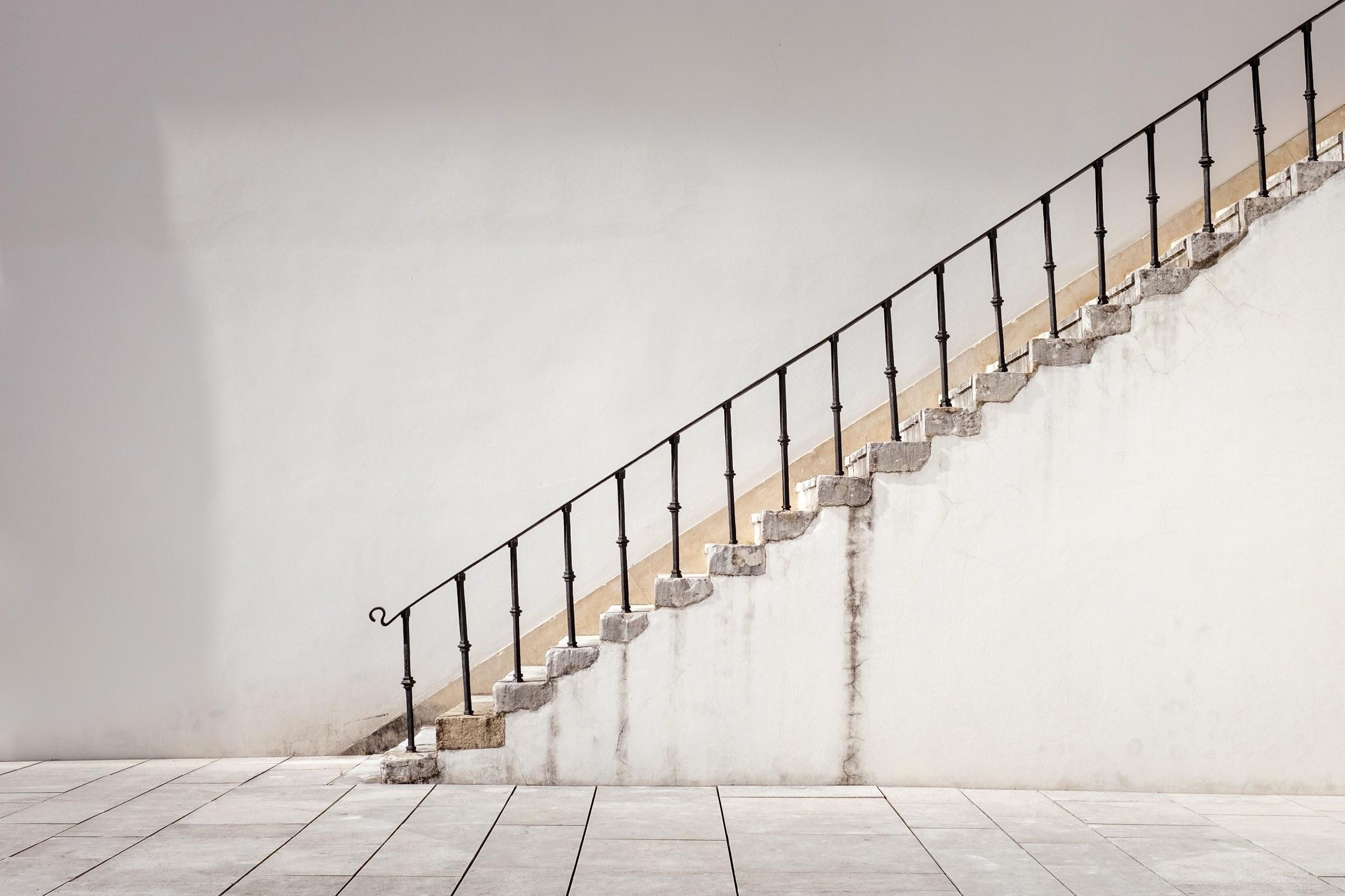 The lead magnet is just the first step in your relationship. If you want to continue building that relationship, providing value, and ultimately getting someone to pull out their credit card and pay you, then you need to ensure your lead magnet is congruent with any ascension offers you make in your follow-up emails.
You can easily do this by starting with your core offer. What's the main, flagship product, program, or service you offer?
Next, think of how you can break that down into baby steps or splinter off smaller pieces that will naturally lead someone to take you up on that offer in the future once the know, like, and trust factor has been established.

Bonus Tip:

Add a low-dollar ascension offer at the end of your lead magnet AND to your thank you page if that offer will help your prospects get results more easily or more quickly.
This second, low-dollar offer (or "tripwire") shifts the relationship with your prospect and increases their commitment level, taking them further into your funnel.
Just make sure what you're asking for makes sense after what they've just opted in for!

Ready to Build Your Business on Autopilot?

With the right lead magnet and funnel in place, you can start generating leads and sales on autopilot. Instead of feast or famine, you'll enjoy a predictable stream of steady leads that you can qualify and build a relationship with for free, creating an audience of loyal, paying clients and customers.
Figuring out what your ideal audience wants might seem daunting at first, but creating the perfect lead magnet doesn't have to be hard.
Just check these 5 pillars off your list to craft a winner:
Make it valuable.
Make it desirable.
Make it specific.
Make it easy to consume.
Make it sequential.
Kate is a certified Digital Marketing Professional who specializes in writing direct response sales copy. She is also the co-founder of Funnel Rehabbers, where she and her husband help big-hearted entrepreneurs generate leads and sales online through marketing funnels that convert. When Kate isn't fixing funnels or hanging out with her family, you can usually find her in the boxing ring.b