$3,000,000 of Product was sold from Stage in 3 Hours Using a Well Crafted Sales Funnel
I had the opportunity to attend one of the most intense sales conferences ever produced. It was Grant Cardone's 10X Growth Conference at the Mandalay Bay Hotel in Las Vegas. For three days brand name speakers presented to more than 9,500 people — up from 1,500 the previous year in Florida — who watched and listened to every word. What we witnessed were some of the most persuasive sales techniques and funnels used on an audience. The VIPs who sat right in front of the stage popped $15K to be seated, so there was money in the room. Based on the 10X growth of the conference Grant did in one year, to 10X again might require the Los Angeles Coliseum.
If anyone is unfamiliar with Grant's methods, they are hard-driving and very effective at boosting his bottom line. His chants of "Who's Got My Money, Sell or be Sold and Be Obsessed or Be Average" rocked the crowd as the high-powered techno show propelled ahead. He boasted there is a reason his personal jet-aircraft was conspicuously parked at the end of the runway across the street at the airport, that's because his sales techniques are successful and he wants to put them to work for you.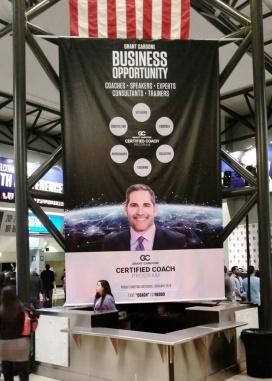 Each speaker was required to sell from stage using their sales funnel to bring in new business. Personal coaches, financial gurus, marketing and social media geniuses all crossed the stage with their messages. One had nothing to sell except his rocking violin performance he'd done previously with Electric Light Orchestra and Celine Dion. In all, everyone attempted to sell something and some were more successful than others.
Our FUNNEL magazine Cover Boy Led the Way
By far and away the most successful presenter was none other than FUNNEL Magazine's premier issue cover boy, Russell Brunson. He led off the proceedings on Saturday, the second day, with a 90-minute talk on his astonishingly successful ClickFunnels product.

He started with the backstory of his wrestling days and how he has grown his company. It started with his observing the behavior of people who were driven to the back of the room to buy things after being convinced from the presenter that what he was selling was what they needed to get ahead. He studied those masters of the craft who excelled at driving sales so effectively. He told us to copy what really successful people are doing with a few adjustments.
From stage, he walked us through how he built a funnel for Tony Robbins who was bringing out his new book, Master the Money Game. Originally when Tony contacted him to build a funnel, Russell told him he needed a day onsite to shoot the videos and get the material. Tony said no. So Russell said OK I need half a day. Tony said no. Tony said: "I'll give you an hour" and Russell agreed.
He literally built the funnel in front of the audience by grabbing a video, pulling down prepared content and text and within minutes it was ready to go. No programmers or techies needed to make it all happen. He showed the audience via slides and narration step by step how he built the site. Tony's website also included a very subtle upsell. On the website was the ability to buy the book but it also included access to a moderately priced video course of Tony's content and of course, the wildly expensive and exclusive personal coaching that Tony offers. As Russell said, it went on to make Tony millions of dollars
And Wait... There's More!
From there he revealed some of his secrets like whoever can spend the most money to acquire a customer wins and that the best sales person on the planet is you. Some subtle coaching that you too can build funnels.
Russell explained how his people used a step by step approach to plan the offer they were going to make at GrowthCon. To the thousands in the audience, employees handed out orange tote bags during his presentation with all the materials needed to go from raising awareness to the close. Inside were materials used to document what you were getting and also "If you buy today" the incredible discount on acting fast. From what I am told from my ClickFunnel associates, it was indeed a bargain of around 75% off the list prices or "a value of" discount.
In the bag was a 3-part form that was ready to be filled out with your name and credit card information. In the back of the room were "order takers" ready to handle your purchase request. As soon as Russell finished, convinced beyond doubt, the crowds formed at his booth with purchase orders in hand.
And was it Successful?
From our perch (as seen in the picture) up in the sky-box level, we could see hundreds of people lined up to hand in their forms. Why, because it included a free-year of ClickFunnels and all the other benefits Russell had repeatedly pitched in his offer. From above, we started running some numbers for fun. At $3K per transaction and estimated 1K buyers, we were guessing around $3M for the end-of-day number.
And the next day from stage Grant announced over $3,000,000 of product had been sold in 3 hours. It was so effective a funnel that Russell came on stage Sunday and extended the offer for a second day for those who were still undecided.
The leadership lesson is that selling is a process. The more refined and articulated the message you have, the better the success. You need to lead your potential clients along from awareness to determining interest to overcoming objections and making the close. Plus, a well-built funnel is the open door to business success.
Jim Egerton is the CEO and founder of Business on the Board™. He is a respected thought leader, teacher, coach, manager, entrepreneur, and a #1 International Best Selling author whose work has impacted the lives of thousands. His management, information technology and training experience comes from serving in the health care, energy and finance industries.